Current date/time is 5/26/2020, 2:35 pm
Search found 3 matches for JayandSilentBobReboot
Has Kevin mentioned the casting of Chris Jericho in this flick? I came across this on Jericho's feed.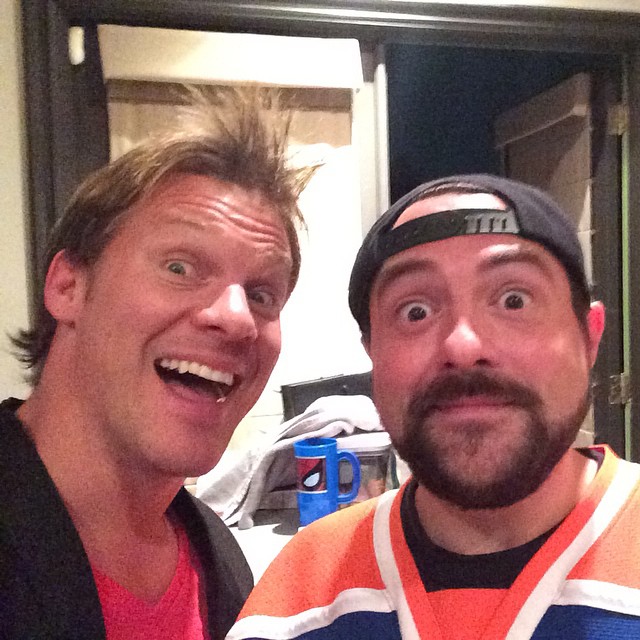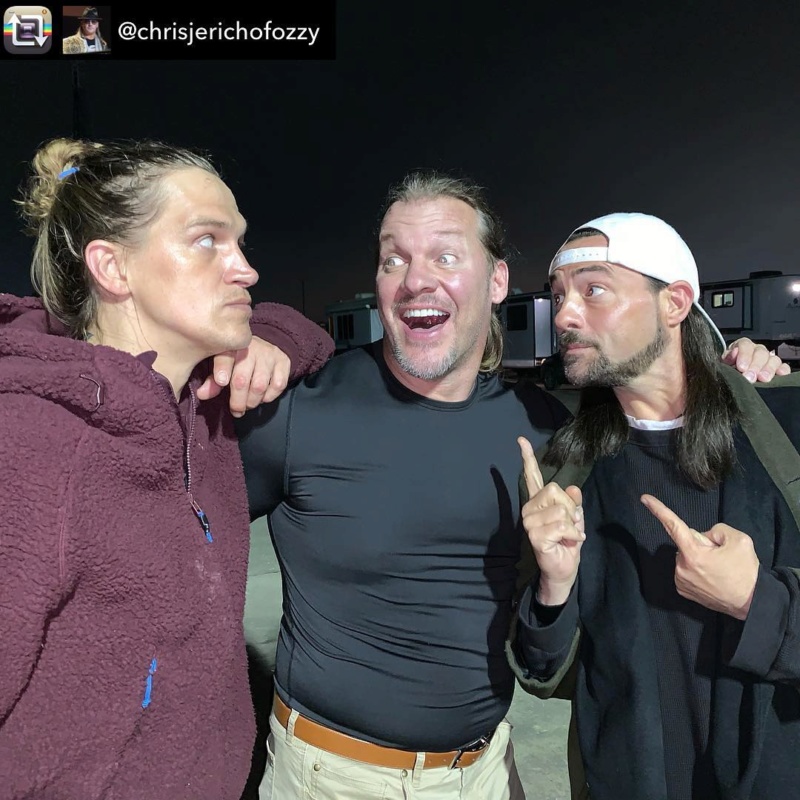 by WyldeMan

on 3/10/2019, 7:06 am
Search in: Movies
Topic: Jay & Silent Bob Reboot
Replies: 75
Views: 1258
"For International Women's Day, let me introduce you to our Reboot Girl Gang! In Jay and Silent Bob Strike Back, Jay and Silent Bob met up with a Girl Gang in a van. So in the Reboot, the stoner duo meet up with another Girl Gang in a very similar van (I'm telling you, it's almost the same movie). And as most reboots feature a familiar story freshly presented with a young and diverse new cast, we follow the example and go full Force Awakens with our Girl Gang!"

"Aparna Brielle plays our plucky Jihad, Treshelle Edmond plays our Silent Bob-ish Soapy, Alice Wen plays our mysterious international podcaster Shan Yu, and my favorite actress ever Harley Quinn Smith plays Milly - who's kinda like the Justice of this Girl Gang (minus the romance with Jay, naturally). And like the last Girl Gang that changed Jay and Silent Bob's lives, these quick, quippy young ladies will take our heroes on the adventure of a lifetime, ending at that most wretched hive of scum and villainy - Hollywood!"
Method Acting! In @jayandsilentbob Reboot, we finally answer the immortal question: How high? So @jaymewes and I turned to the only men who might be able to solve this eternal mystery: @methodmanofficial & @redmangilla! Holy fuck, what a great night we had on set! It was a gigantic, packed day where we had a hundred extras and I was in and out of costumes - and in the middle of it all was the Mef and Red scene. But the moment we called "Action," the legends launched into the single best first take I ever shot in 25 years: they were pitch-perfect and hysterical (and a little touching)! It was so good, I could've cut their whole performance from that one take! But my friends flew all way to #nola to say this shit, so we did another two shot, a pair of singles and then picture wrapped our secret sauce! I've had millions of memorable moments over the course of my career. But watching that magic take unfurl is in my Top Ten! And when I heard #methodman and #redman say "Snoogans" and "Snootchie Bootchies"? I was lifted! Many thanks for bringing absolute fire, my friends! #KevinSmith #jasonmewes #jaymewes #JayandSilentBobReboot #indiefilm #JayandSilentBob #wutang #acting #JayandSilentBobStrikeBack #indiefilmmaking
This is not a @redbox ad - this is a big thank you from @jayandsilentbob Reboot to the good folks at Red Box for the Gretzky-like assist in getting us a kiosk for our movie. I Tweeted at #redbox in pre-production, asking if they could help us out and the Red Boxketeers delivered! As with all the good things in my life, this movie starts at Quick Stop. And as in the real world, video stores (like Jay and Silent Bob themselves) are a thing of the past. So to help tell our story of how time marches on and how the past gives way (reluctantly) to the inevitable future, having the modern version of a video store Clerk make a wordless cameo at the top of the flick really sets the tone. Don't get me wrong: we're making a vulgar l'il comedy. But since the vulgar l'il comedian behind the camera nearly dropped dead last year, there's a surprising amount of introspection for a #jayandsilentbob flick. I know this because I spent all weekend editing, cutting together 23 minutes of the movie, including the opening and closing scenes. The first scene is easily one of the funniest sequences I've ever shot, and the final scene is heartbreakingly beautiful for a movie about cartoonish weed dealers who go on the journey of a lifetime. Again. We start Week 2 in 10 minutes. #KevinSmith #Jay Mewes jayandsilentbobreboot #jayandsilentbob #videostore #quickstop #JasonMewes #SilentBob #clerks #nola #neworleans #JayandSilentBobStrikeBack #indiefilm #indiefilmmaking
We're not even supposed to be here today! It was 26 years ago that @briancohalloran and I first gathered at the Quick Stop to start a cinematic journey of a lifetime - a journey that continues in @jayandsilentbob Reboot! With shooting Dante today and Brodie on Day 1, Reboot has thus far played out like my own personal version of the last 10 minutes of Tim Burton's BIG FISH, as all my old friends and the people who made me what I am today return to say g'bye! Then we reboot that g'bye into a big fat hello! Welcome back to the View Askewniverse, my friends! It's like the @marvelstudios cinematic universe - just with waaaaaaaay less money. #KevinSmith #jayandsilentbobreboot #brianohalloran #movie #clerks #dante #quickstop #quickstopconvenientstore
by WyldeMan

on 3/8/2019, 3:49 pm
Search in: Movies
Topic: Jay & Silent Bob Reboot
Replies: 75
Views: 1258
Jay & Silent Bob Reboot Officially Begins Pre-Production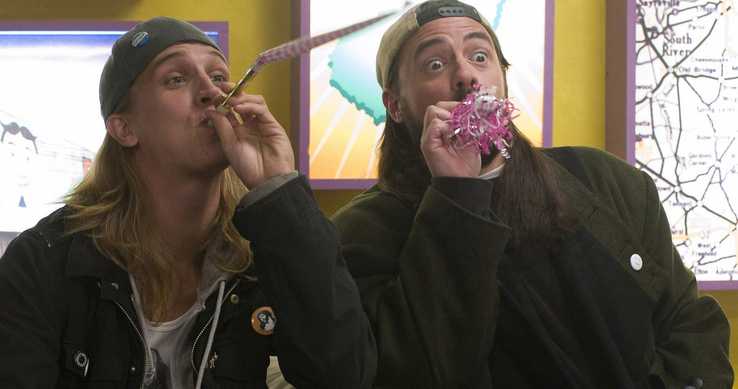 Kevin Smith has confirmed that work is finally underway for the Jay & Silent Bob Reboot. The writer/director/actor shared a social media post on New Year's Day revealing that he, Jason Mewes, and Jordan Monsanto (Mewes' wife) had started the pre-production process, which is exciting news. In an interview from November, Mewes indicated that the pre-production was supposed to start this month, but nothing was concrete at that time. However, everything seems to be going according to plan. Smith had this to say.


"Spent the first day of 2019 having a Jay & Silent Bob Reboot pre-pre-production meeting at our holiday-roomy We Work office! Jason Mewes took this pic of me and Jordan Monsanto to both mark the moment and to document that we were the only dopes in Hollywood working on the holiday."


Kevin Smith first announced the Jay & Silent Bob Reboot back in August of 2017, but the project has hit some snags since then, most notably when Smith suffered a near-fatal heart attack early last year. Smith has since made a full recovery and has lost over 50 pounds in the process, which means there probably won't be any weight jokes thrown in Silent Bob's direction this time around, unless they're skinny jokes. Jason Mewes has said that his Jay character along with Smith's Silent Bob will be "more mature" in the reboot.

As for when the Jay & Silent Bob Reboot will begin filming, it's believed that shooting will begin next month in New Orleans. Jason Mewes revealed that bit of information back in November along with the pre-production news, so it appears that everything is moving ahead. The actor also revealed that they had secured the funding to make the reboot, so money shouldn't be a problem.

It's unclear who else will star in the Jay & Silent Bob Reboot except for Jason Mewes, Kevin Smith, and some actors from The CW's The Flash including, Grant Gustin, Tom Cavanagh, and Carlos Ramon, who will have cameos. As for the rest of the team, it's unknown at this time. But, one can imagine that Smith will be able to get some actors to return to the franchise like Ben Affleck, Joey Adams, Jason Lee, Brian O'Halloran, Ethan Suplee, and hopefully some more. We'll just have to wait and see.

The Jay & Silent Bob Reboot is still in the very early stages of production, so anything can happen at this time, but we're all hoping that everything comes together this time around and the movie ends up starting the filming process next month. It's been a long time since we've seen Jay and Silent Bob on the big screen, and the world is a much different place now, leaving a whole new generation to poke fun at through Kevin Smith's unique lens. You can check out the official Jay & Silent Bob Reboot announcement below, thanks to Kevin Smith's Twitter account.

by WyldeMan

on 1/4/2019, 7:46 am
Search in: Movies
Topic: Jay & Silent Bob Reboot
Replies: 75
Views: 1258