Pedro Pascal is in negotiations to play the antagonist in Sony and Escape Artists' "The Equalizer 2" starring Denzel Washington.

Antoine Fuqua is returning to direct. Todd Black, Jason Blumenthal, Washington, Steve Tisch, Alex Siskin, Michael Sloan, Tony Eldridge and Mace Neufeld are producing.

Plot details are currently scarce, other than that Washington will reprise his role as Robert McCall, a former special ops agent who now helps those who can't defend themselves. Details on Pascal's character are unknown.

The pic bows on Sept. 14, 2018. The movie is Washington's first sequel after the first film was a hit, grossing $100 million domestically. Based on the 1970s TV series, "The Equalizer" followed McCall as a simple man who worked at a Home Depot-style store and kept a quiet life. His secret past, however, was brought to light when he took on a Russian syndicate to defend a young girl who was badly beaten by her pimps, who worked for the mob.

While details on what force Washington's character will be fighting are being kept under wraps, it could be another high-powered gang led by Pascal.

The sequel is a big move for Sony, as this marks the first time Washington has ever reprised a character in his storied career. "The Equalizer 2" is such a priority for Washington that Fuqua left his post as director of the "Scarface" reboot at Universal to focus on the film.

It also marks a big get for Pascal, who has begun to build a busy career after breaking out as Prince Oberyn in Season 4 of "Game of Thrones." He has continued to build a fan base with Netflix's "Narcos" while slowly adding major films to his resume.

Along with Season 3 of "Narcos," Pascal can next be seen in "Kingsman 2: The Golden Circle," which opens next month and also stars Taron Egerton, Colin Firth, Julianne Moore, and Channing Tatum.
Last edited by WyldeMan on 2/14/2018, 4:59 am; edited 2 times in total

ForeverBlu




Posts

: 3872


Join date

: 2014-12-10


Age

: 54


Location

: NYC



I'm surprised it's actually happening, since Denzel has never done a sequel before.
Pedro is a great addition too. He and Holbrook are really breaking out into films now.
I'm not, Denzel loves working with Antoine Fuqua.

ForeverBlu




Posts

: 3872


Join date

: 2014-12-10


Age

: 54


Location

: NYC



@ForeverBlu

wrote:I'm not, Denzel loves working with Antoine Fuqua.
And Fuqua must love Denzel since he abandoned the Scarface reboot at Denzel's request to do this sequel instead. Probably a much smarter choice in the long run....
Melissa Leo & Bill Pullman Returning For 'Equalizer 2'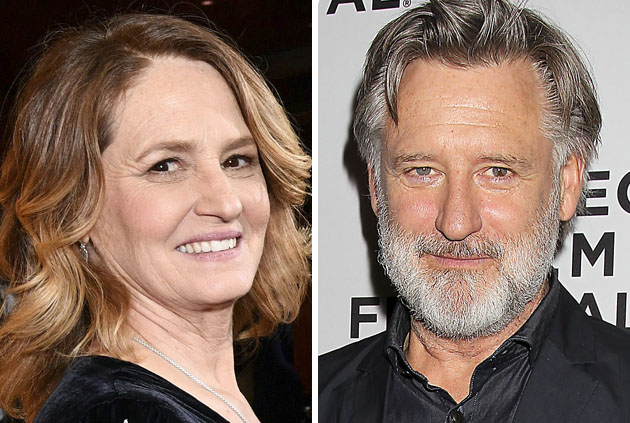 EXCLUSIVE: Melissa Leo and Bill Pullman are coming back for the Equalizer sequel to co-star alongside Denzel Washington for Sony Pictures and director Antoine Fuqua.

Leo and Pullman are set to reprise their roles as Susan and Brian Plummer, the great friends of Robert McCall (Washington) when he worked in counter-terrorism. Susan was McCall's handler. The cameras will roll in Boston on September 14.

Leo is an Emmy and Oscar winner whose recent credits include Showtime's I'm Dying Up Here and Novitiate, which will get is international premiere in Toronto and will be distributed by Sony Pictures Classics.Pullman, who is being honored with the excellence in acting award in October at the the Woodstock Film Festival, stars in A24's The Ballad Of Lefty Brown — a Western that had its world premiere at SXSW to critical acclaim for the actor. The film got a 30-day exclusive window on DirecTV before it goes to its theatrical run via A24.
'Equalizer' Sequel Set Shooting Leads to 2 Arrests, Charges of Assault With Intent to Murder
Dionte Martinez and Thomas Perkins have been charged in incident on set of Denzel Washington action movie.

Two people have been arrested in connection with a shooting over the weekend on the set of the sequel to Denzel Washington's "The Equalizer," the Boston Police Department said Thursday.

Dionte Martinez, 18, and Thomas Perkins, 18, have both been charged with assault with intent to murder, unlawful possession of a firearm and unlawful possession of ammunition.

According to police, the pair fled from the scene after the shooting, which occurred shortly after midnight Saturday morning, and were arrested in Quincy, Massachusetts on Thursday.

ABC affiliate WCVB reported that two security guards working on the set were wounded in the incident; however, the injuries were not life threatening and they were released after receiving treatment at the hospital.
'The Equalizer 2' Eyes Earlier Release Dates
Sony is doing some more shuffling on their release dates for The Equalizer 2 and Paul, Apostle of Christ. The Antoine Fuqua-directed sequel starring Denzel Washington has been pushed up to July 20 from the previously announced August 3 release date while the studio's biblical drama will open on March 23, a couple days earlier from the original release date of March 28.This is the third time The Equalizer 2 has moved release dates. Prior to announcing the August 3 release date, the sequel was set to open on August 10 and before that, it was slated to open on September 14. The new release date of July 20 seems pretty clear of competition for The Equalizer 2. Mamma Mia! Here We Go Again is the only big movie set for release on that day — which is a totally different audience. Robert Rodriguez's Alita: Battle Angel was originally slated for July 20 and could have been big competition for the movie, but has since been pushed back to December.

---
Permissions in this forum:
You
cannot
reply to topics in this forum