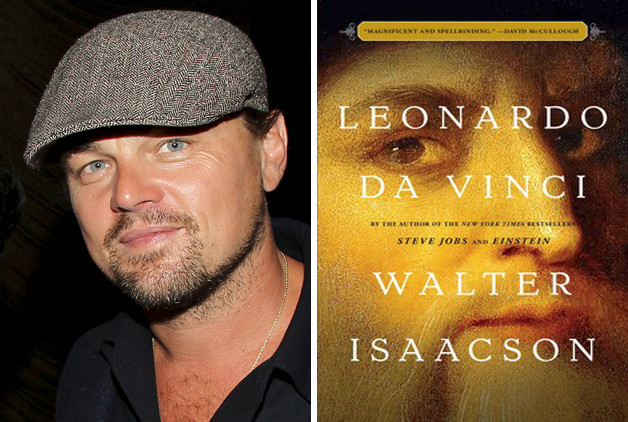 Legend has it that Leonardo DiCaprio was so named because his pregnant mother was looking at a Leonardo da Vinci painting in a museum in Italy when the future star kicked for the first time. So it seems like destiny that DiCaprio might someday play his namesake, the artist who painted The Last Supper and the Mona Lisa. Paramount and Universal are in a ferocious seven figure bidding battle tonight to acquire the Walter Isaacson book Leonardo da Vinci, with Appian Way in the center of this to produce the film as a potential star vehicle for DiCaprio. Paramount, where Appian Way's DiCaprio and Jennifer Davisson have their first look deal, was all over this one quickly, but Universal has come on gangbusters and turned it into a real two-studio race. Isaacson wrote Steve Jobs, which was turned into the Danny Boyle-directed film that starred Michael Fassbender. The former Time Magazine editor has also written bestsellers on Benjamin Franklin and Albert Einstein, the latter of which was the basis for the Emmy nominated NatGeo series Genius that starred Geoffrey Rush. The book will be published in October by Simon & Schuster.

According to info from the publisher, Isaacson used Da Vinci's notebooks to weave a narrative that connects his art to his science and voracious curiosity and imagination. Aside from his priceless paintings, he pursued innovative studies of anatomy (his iconic drawing of Vitruvian Man), fossils, birds, the heart, flying machines, botany, geology, and weaponry. He peeled flesh off the faces of cadavers, drew the muscles that move the lips, and then painted history's most memorable smile. He explored the math of optics, showed how light rays strike the cornea, and produced illusions of changing perspectives in The Last Supper. Isaacson also describes how Leonardo's lifelong enthusiasm for staging theatrical productions informed his paintings and inventions. According to the book, he was also a bit of a misfit: illegitimate, gay, vegetarian, left-handed, easily distracted, and at times heretical.

Appian Way moved from Warner Bros to Paramount, making a three-year deal in March, 2016 right after DiCaprio won Best Actor for The Revenant. The studio is hoping that DiCaprio will star for them in The Devil In The White City, an adaptation of the Erik Larson book that's got a script by Billy Ray and will re-team DiCaprio with Martin Scorsese. Appian and Paramount are separately percolating several projects including an adaptation of the Kayla Olson novel Sandcastle Empire, about an apocalyptic future with a society on the brink of collapse from climate change; a yet-untitled film based on a book proposal by New York Times journalist Jack Ewing about the recent Volkswagen diesel emissions scandal; and a limited television series based on A. Scott Berg's Pulitzer Prize-winning biography of Charles Lindbergh. Appian Way continues to work on its Warner Bros films that include Akira and a film about Richard Jewell, the security guard whose life unraveled when his heroic efforts to clear a park during a bombing led to a press witch hunt that he had planted the device. Jonah Hill is attached to play Jewell and DiCaprio could play his lawyer. The next Appian Way project to hit the screen will be the Otto Bathurst-directed Robin Hood, with Kingsman's Taron Egerton playing the title character. Appian Way is producing with Safehouse and Thunder Road. DiCaprio is also circling Killers of the Flower Moon in a Scorsese re-team, based on the David Grann book that Imperative Entertainment bought for $5 million, with Eric Roth adapting.
Still chasing those statues with fucking biopics.

Just no.

Rusty




Posts

: 2526


Join date

: 2014-12-09


Location

: Australia



What happened to Devil in the White City?

He bought the rights to the novel and Scorsese was going to direct.

With Leo playing the serial killer H. H. Holmes.

Rather see that instead.

ForeverBlu




Posts

: 3854


Join date

: 2014-12-10


Age

: 55


Location

: NYC



@ForeverBlu

wrote:What happened to Devil in the White City?

He bought the rights to the novel and Scorsese was going to direct.

With Leo playing the serial killer H. H. Holmes.

Rather see that instead.
Read the first few sentences from the final paragraph in the OP, they discussed Devil.
@Rusty

wrote:Still chasing those statues with fucking biopics.

Just no.
They don't really give statues for guys who played serial killers unless they're named Hopkins.
He's becoming the male Meryl Streep, only roles with golden glory potential get attention.
UPDATE: Paramount just emerged from an intense two-studio bidding battle to win a seven-figure auction for the rights to Walter Isaacson's book Leonardo da Vinci, which will be crafted as a star vehicle for Leonardo DiCaprio to play the painter/scientist. He and Jennifer Davisson will produce through their Appian Way banner. Paramount had the early lead on this one, but Universal came in aggressively Friday afternoon, and the bidding continued until it just wrapped up moments ago with ICM Partners brokering the deal for Isaacson. This is a big get for Paramount, where Appian Way has its deal and expects to be a big part of the studio rebound. After Universal stepped up, Paramount did what it had to do to win the title. Elizabeth Raposo was a big part of making it happen, sources said.

---
Permissions in this forum:
You
cannot
reply to topics in this forum