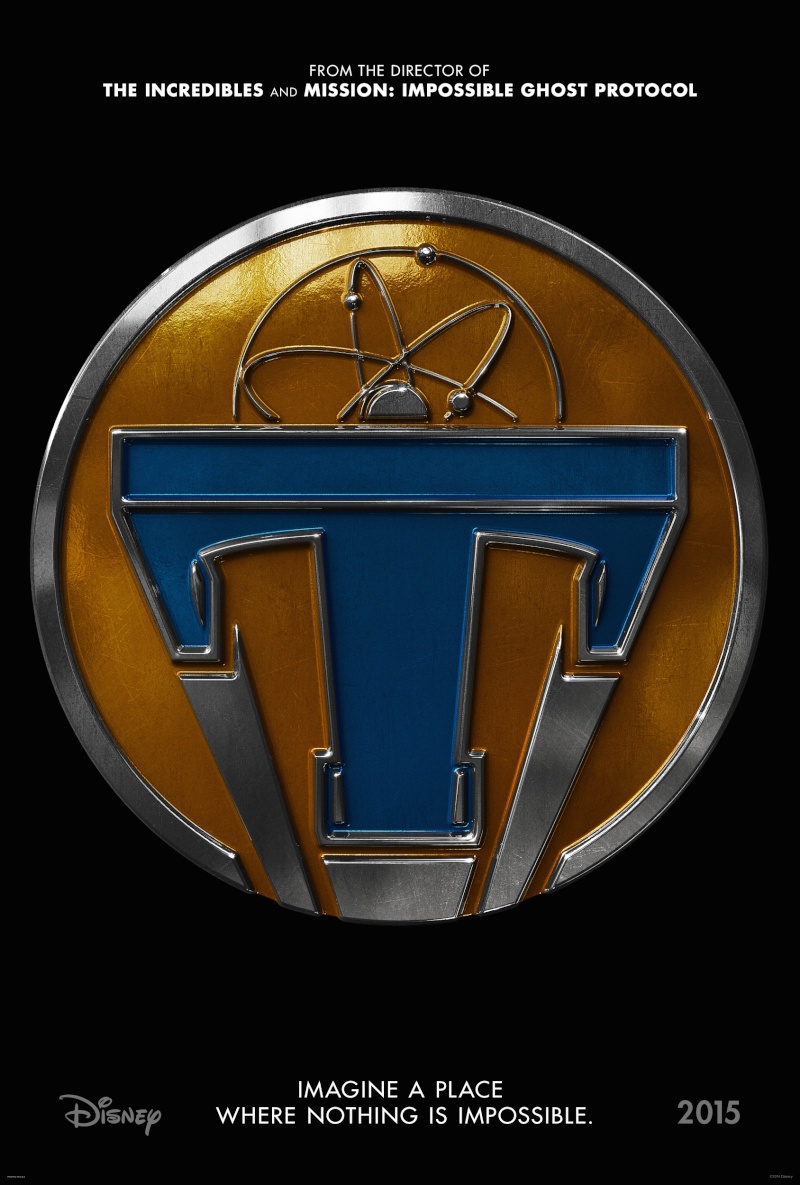 Bound by a shared destiny, a bright, optimistic teen bursting with scientific curiosity and a former boy-genius inventor jaded by disillusionment embark on a danger-filled mission to unearth the secrets of an enigmatic place somewhere in time and space that exists in their collective memory as "Tomorrowland."

Last edited by WyldeMan on 5/31/2015, 6:01 pm; edited 1 time in total
Forget about the dead heat between Tomorrowland and Pitch Perfect 2. That's yesterday's news. Disney's George Clooney theme park adaptation title is coming in at $32.159M for the 3-day and $40.7M for the 4-day. Forget it being slightly less than pre-weekend estimates, many folks tell me that for a pic that cost an estimated $180M-$190M, Tomorrowland should be in the $50M neighborhood stateside considering its price. The Brad Bird-helmed pic had a similar CinemaScore to Prince of Persia — B. That film made 73% of its global B.O. abroad and that's where the hope lies for Tomorrowland which drew $26.7M from 65 territories for a global first weekend of $58.859M. Compare Tomorrowland to the following despite the demo difference: Warner Bros. Mad Max: Fury Road, in 68 foreign territories, made $109.4M in its worldwide bow last weekend, repping 73% of its reported $150M production cost.

Disney is hoping that the film benefits from being the only PG title in the stateside market until its Inside Out arrives on June 19. In all fairness to Disney, they really gave their all to Tomorrowland. This was not a film that they just dumped in the market. They continue to bang the drum for it. Star George Clooney is set to make a pit stop in Shanghai for the China premiere. Disney began generating buzz for the film at their August 2013 D23 when Bird appeared on stage at the Anaheim Convention Center with co-scribe Damon Lindeloff and a dusty box of archival inspirations for the film. The studio dropped its word of mouth into fourth gear last fall at New York's ComicCon with an appearance by Clooney and cast along with a teaser unveiling.  There was a Super Bowl 30-second spot, a Google teaser experience, a TakeMeToTomorrowland.com launch featuring exclusive and explorable looks at the world of the film, seven-minute sneak peek on Imax showings of Avengers: Age of Ultron, a Disneyland world premiere and a globe-trotting filmmaker cast tour in San Francisco, London, Valencia Spain and Tokyo, Japan.

Why did Disney choose Memorial Day weekend to launch Tomorrowland? Again, it's because they believed in it. They saw Tomorrowland as an event film, and Memorial Day weekend is where event films bow. However, Memorial Day crowds don't want to try something new on the menu, they want juicy, read steak franchise sequels.

Part of the conundrum per distrib sources was the marketing materials for Tomorrowland: Is it for fanboys? Young kids? Pic's audience was almost split between males and females, 51% to 49%.  Families numbered 30% while teens repped 9%.  60% of the crowd was over 25 — meaning, it appears that the George Clooney fans came out, but not the prime demo. Under 18 demo gave the film an A-, so let's hope they text their friends and tell them to go. Tomorrowland's  $30M-ish bow is right in the sweet spot of where Clooney's Ocean's Eleven movies opened. Rotten Tomatoes for Tomorrowland is at 50%.

It's funny, Disney and Universal had a boxing match going between their respective titles Into the Woods and Unbroken during Christmas and New Years, and the demos for each film couldn't have been different. It's deja vu all over again regarding this weekend's battle between Tomorrowland and Pitch Perfect 2.
---
Permissions in this forum:
You
cannot
reply to topics in this forum