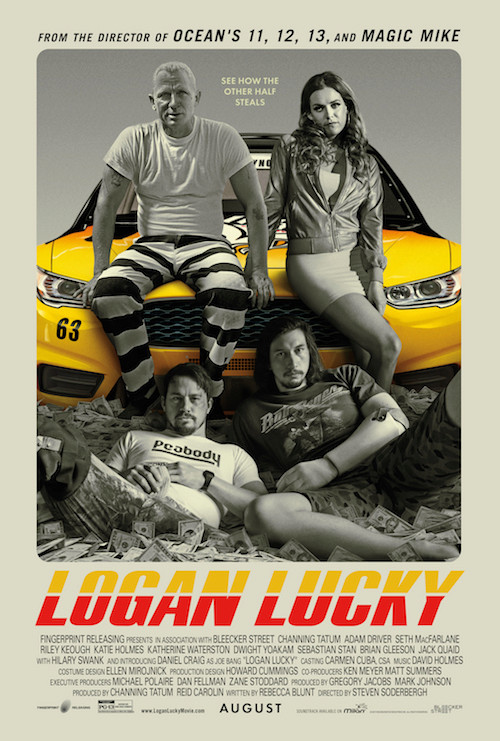 The Logan's are a blue-collar family from the hills of West Virginia, and their clan has been famous for its bad luck for nearly 90 years. But the conniving Jimmy Logan (Channing Tatum) decides it's time to turn the family's luck around, and with a little help from his friends, the Redneck Robbers, he plans to steal $14 million from the Charlotte Motor Speedway on the busiest race day of the year.    

   A heist movie with a difference: Steven Soderbergh, the director of the Ocean's Eleven trilogy and an A-list cast including Channing Tatum, Daniel Craig and Adam Driver deliver a smart, thrilling and funny blue-collar story of an audacious multi-million dollar robbery. The film also stars Seth MacFarlane, Riley Keough, Katie Holmes, Katherine Waterston, Dwight Yoakam, Sebastian Stan, Brian Gleeson, Jack Quaid, and Hilary Swank.
Last edited by WyldeMan on 7/27/2017, 10:29 am; edited 1 time in total
This looks very funny. Daniel Craig looks and talks very different here unlike I've seen him in anything else before.

UltimateMarvel




Posts

: 6065


Join date

: 2014-12-09


Location

: Marvel Universe



Soderbergh's New Movie Writer Likely Doesn't Exist
The reviews are in for Steven Soderbergh's upcoming Logan Lucky, and they are stellar. One person, in particular, is garnering strong praise, a first-time screenwriter by the name of Rebecca Blunt. But, as multiple sources tell The Hollywood Reporter, no such writer exists.
The Rebecca Blunt ruse was so thorough that people involved with the film that stars Channing Tatum, Adam Driver and Daniel Craig had no idea that a pseudonym was in play and claim to have exchanged emails with Blunt in the U.K., where they believed she lived. Blunt never visited the set of the film, but that never raised any flags beyond the NASCAR-emblazoned ones featured throughout the pic.
Logan Lucky reviewers did not receive a press kit, which typically highlights the back story of key participants in a project, and only were given a bare-bones list of credits as they appear in the film. Also unusual, there is no press junket planned, despite the fact that the film is receiving a wide release on Aug. 18 and features a high-profile cast of movie stars that also includes Katherine Waterston, Riley Keough, Katie Holmes, Seth MacFarlane and Hilary Swank.
A representative for Bleecker Street, the company that is releasing the film, declined comment.
So, who wrote the hillbilly heist screenplay — lauded as "a beauty" and "brimming with humour and life"? One knowledgeable source says it was none other than Soderbergh's wife, Jules Asner. If so, the longtime E! host has pulled off a remarkable feat with what would mark her first screenplay. In fact, she's never even worked in film (her sole big-screen foray was playing herself in Kevin Smith's 2001 comedy Jay and Silent Bob Strike Back). Furthermore, Asner has never worked on any of her husband's TV projects, according to her credits. However, the one-time model has demonstrated a creative streak in the past. She wrote the well-reviewed 2008 novel Whacked (Publishers Weekly called it "tons of fun ... a dishy mix of Tinseltown hackdom, chick lit and, surprisingly, a chilling plot."
Another insider says the real writer is Soderbergh. The Oscar-winning director, making his return to film after announcing his big-screen retirement four years ago, is no stranger to using pseudonyms on his films. With the 2015 Tatum starrer Magic Mike XXL, Soderbergh used the names Peter Andrews for his work as cinematographer and Mary Ann Bernard for his work as film editor, as he has done with numerous movies in the past. But Soderbergh hasn't written any of the features he's directed since 2002's Solaris. It's also worth noting that Soderbergh is not using a pseudonym for his editing or cinematography credit on Logan Lucky.
A third intriguing possibility being floated is that another E! personality, John Henson, wrote the screenplay. The former Talk Soup host and friend of Asner's, is said to have been working on a screenplay with Soderbergh a few years ago that harkened similar themes as Logan Lucky.
The mystery surrounding the film's screenwriter offers a surreal twist for the film that currently boasts a 100 percent rating on Rotten Tomatoes.
During Hollywood's Blacklist era, writer pseudonyms were common. But in recent years, the practice has become rare. Oscar winner Michael Arndt (Little Miss Sunshine) is one of the few exceptions. He uses the name Michael deBruyn on rewrite jobs, as he did with The Hunger Games: Catching Fire.
According to the WGA's web site, a writer must use his/her own name in all writing credits unless he/she has already established a pseudonym or registers one at the Guild office before commencement of employment on a writing assignment, or before disposition of any rights to literary material on which he/she wishes to use such pseudonym.
The WGA declined to comment on the Logan Lucky case, as did a rep for Soderbergh.
After the initial publication of this story, Soderbergh told EW: "Well, that's going to be news to Rebecca Blunt. When people make a statement like that they should be very careful, especially when it's a woman screenwriter who is having her first screenplay produced."


In the meantime, agents, managers and lawyers continue to pursue Blunt, who one agent said "would be a huge get." Indeed.
Interesting! I'm just glad the movie is good and getting positive reviews. Trailers were funny and can't wait to watch it.
I have a feeling Daniel Craig is going to steal the show. Since your a fan of him Wylde, look at your boy go.


UltimateMarvel




Posts

: 6065


Join date

: 2014-12-09


Location

: Marvel Universe



@UltimateMarvel

wrote:Interesting! I'm just glad the movie is good and getting positive reviews. Trailers were funny and can't wait to watch it.

I have a feeling Daniel Craig is going to steal the show. Since your a fan of him Wylde, look at your boy go.
Charming Tater, CHUD and James Cunt starring in a film directed by Steven "Is my lens tint orange enough" Soderbergh. Yeah, I can't wait.
The wait is finally over, it's available for DL.
Very funny and well written movie. Cast was all excellent in this and Daniel Craig was unrecognizable. Best I've seen Adam Driver in too. Really enjoyed the movie.

UltimateMarvel




Posts

: 6065


Join date

: 2014-12-09


Location

: Marvel Universe




---
Permissions in this forum:
You
cannot
reply to topics in this forum