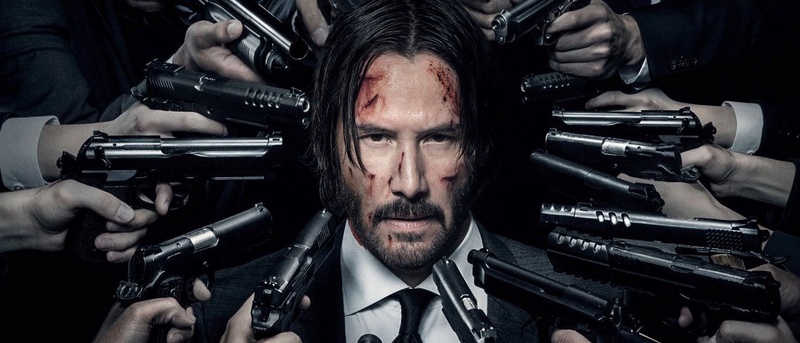 Derek Kolstad, who penned the Keanu Reeves hits John Wick and John Wick: Chapter 2, will keep the bullets flying.

The scribe has been tapped to pen the screenplay for the third installment of the action franchise, John Wick: Chapter 3, for Lionsgate and producer Basil Iwanyk.

Chapter 3 is being fast-tracked to start production this fall with Reeves expected to reprise his role of beleaguered hitman John Wick. Chad Stahelski, who co-directed the first movie with David Leitch and sat solo behind the camera for the second one, is working with Kolstad and developing the project with an eye to direct it.

The two Wick installments have made over $250 million worldwide while being smartly and modestly budgeted. The movies, which took audiences deep into a worldwide society of assassins, have also been a hit with critics.

Bringing back Kolstad is seen as keeping the creative team intact and not messing up a winning combination.

Kolstad wrote the original Wick on spec; it was originally titled Scorn. The writer is keeping a handle on his creation's activities outside the movies, having also written the VR video game, John Wick: Chronicles (currently available on Steam), and is consulting on the John Wick comic book series, coming out later this year.

Keanu Reeves has likened the third film to John Carpenter's Escape From New York, but it remains to be seen if Wick will be grounded to only to New York City for another entire film. Considering, they just opened up the idea of an international manhunt for him.

John Wick: Chapter 2 seemingly reveals that the High Table will be the villains of the next film, if not future sequels. This was hinted to by their $14 million international hit on Wick.

The museum scene also hints to this as the statue demi-god Hercules encircled by 12 Greek gods (as seen in the header image) its imagery is a wrath-filled killing of his messenger Lichas after Hercules believes he has attempted to poison him. Mirroring John's situation at the end of the film.

The High Table is the unseen Greater Scope Villains of John Wick: Chapter 2. They are a council of 12 crime bosses from some of the world's most powerful criminal organizations. It is the goal of Santino D'Antonio to become a member of the High Table.

The known criminal syndicates apart of the High Table include Camorra (Naples, Italy), Sicilian Mafia (Sicily, Italy), 'Ndrangheta (Calabria, Italy), and Triad (China/Hong Kong). It's expected each seat in the group of 12 would be represented by 12 different criminal organizations from around the world. Although, with the death of Gianna D'Antonio and her treacherous brother Santino it's possible the council will be down to 11 members.

A release date isn't being revealed here but seeing it released in late 2018 or early 2019 wouldn't be hard to imagine.
Last edited by WyldeMan on 9/14/2017, 7:01 pm; edited 1 time in total
Nice! I'm ready for it. Hope we see a lot of actors joining the 3rd one.

UltimateMarvel




Posts

: 5108


Join date

: 2014-12-09


Location

: Marvel Universe



This should be the final one.

ForeverBlu




Posts

: 3696


Join date

: 2014-12-10


Age

: 54


Location

: NYC



ForeverBlu wrote:This should be the final one.
I bet it's rebooted two years after the third.
This is too epic to reboot, they can't top it and do better than Keanu.

UltimateMarvel




Posts

: 5108


Join date

: 2014-12-09


Location

: Marvel Universe



Rebooted as a prequel with Justin Long

Tyger




Posts

: 1452


Join date

: 2014-12-09


Location

: Utah



Tyger wrote:Rebooted as a prequel with Justin Long
John Wick' Comic Book Launch Will Reveal Character's Origin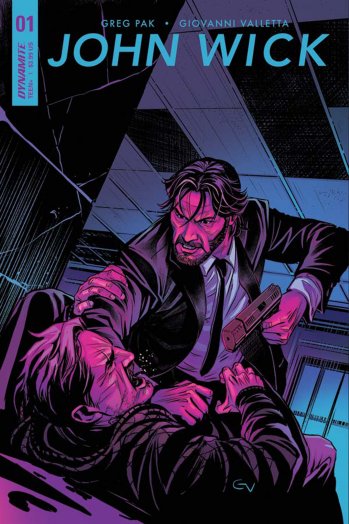 After an announcement at the end of last year, fans of John Wick have been eagerly awaiting the Dynamite Entertainment comic book series based on the Keanu Reeves movie series. This September, the wait is over.

Written by Greg Pak (Marvel's The Totally Awesome Hulk, DC's Action Comics) with art by Giovanni Valletta, the John Wick series doesn't continue the storyline seen in the two movies released to date; instead, the story — which takes place as part of official movie canon — flashes all the way back to the start of Wick's career.

"I was on board pretty much as soon as I got the call and heard 'John Wick,'" Pak said in a statement from Dynamite. "I'm a huge Keanu Reeves fan and loved the John Wick movies, which had the kind of kinetic action and intriguing mythology that seemed like a perfect fit for comics. I'm also always happy to work with my friends at Dynamite, who are always a pleasure to make comics with. And the art I saw from Giovanni Valletta blew my mind — he's totally nailing Keanu Reeves' likeness while creating emotional, dynamic, exciting action.

This book is going be beautiful. But what really sealed the deal was when Dynamite Editor Anthony Marques said we had the greenlight to tell a John Wick origin story. That was astounding to me — we're not just telling another fun adventure with the character; we're actually going to be able to add to this character's and world's tremendous mythology by telling an origin story! What could be cooler than that?"

According to editor Marques, "We've received the blessings from all of the creators involved with the films, every step of the way. That includes the writer/creator of John Wick Derek Kolstad, as well as Thunder Road, Lionsgate, and even Keanu Reeves. This book is the real deal and people are not going to be disappointed."

The series will launch digitally and in comic book stores this September. Valletta's cover for the first issue is above; below is a variant cover for that issue by Denys Cowan and Bill Sienkiewicz.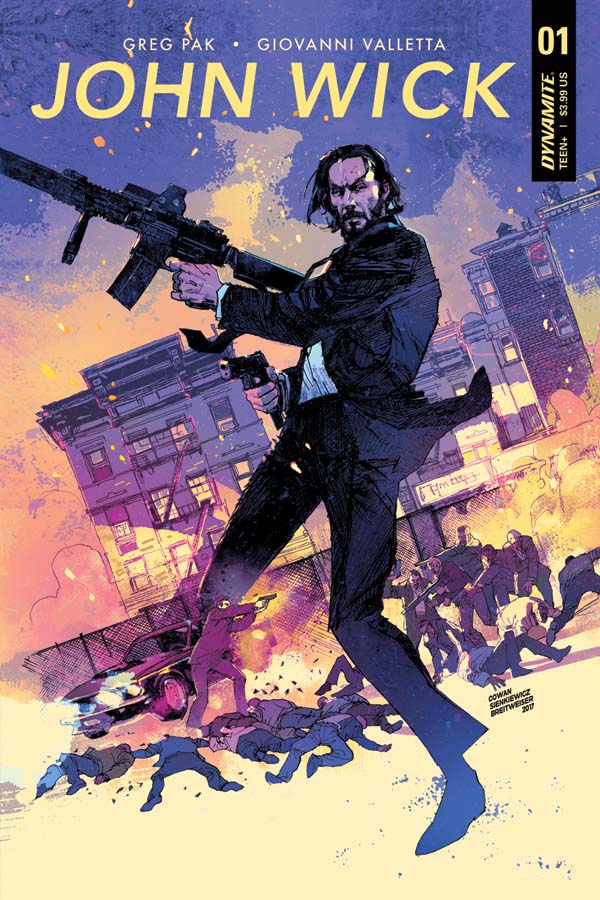 'John Wick: Chapter Three' Targets Early Summer 2019 Date
The third installment in Lionsgate/Summit's Keanu Reeves shoot-em-up franchise, John Wick: Chapter 3 is locked and loaded to open on May 17, 2019. John Wick: Chapter Two, which opened in early February, was a huge surprise at the winter box office, debuting to $30M and finaling at $92M stateside, $171.5M worldwide.

The first John Wick, though it only made $88.8M at the global B.O., was a huge hit on home entertainment, hence the reason why Lionsgate proceeded with a sequel. To date, both John Wick pics count $260.3M at the worldwide box office.

Currently, John Wick:Chapter 3 is the only film scheduled on its current release date, and precedes Disney's live-action version of Aladdin from Guy Ritchie which is opening on May 24, as well as Warner Bros.' Minecraft movie.

Chad Stahelski who helmed part 2 and the original 2014 version returns for a third time. Ditto for screenwriter Derek Kolstad who has penned the first two movies.
---
Permissions in this forum:
You
cannot
reply to topics in this forum