Vera Farmiga has joined Millie Bobby Brown and Kyle Chandler in the "Godzilla" sequel, "Godzilla: King of the Monsters."

She will play Brown's character's mother in the Legendary film, while Chandler portrays the "Stranger Things" star's father.

"Krampus" helmer Michael Dougherty is directing the project from a script he penned with Zach Shields.

Aaron Taylor-Johnson, Bryan Cranston, Ken Watanabe, and Elizabeth Olsen starred in the 2014 "Godzilla" reboot, directed by Gareth Edwards. Sources tell Variety that Watanabe is the only original cast member likely to return for the second installment.

Alex Garcia will oversee the tentpole for Legendary. "Godzilla: King of Monsters" hits theaters on Mar. 22, 2019, with the monster mash-up "Godzilla vs. Kong" slated to bow the following year on May 29, 2020.

Legendary and Warner Bros. announced in late 2015 that all future "King Kong" and "Godzilla" movies would be developed by Legendary and distributed by Warner Bros., starting with "Kong: Skull Island" in March. Legendary currently holds a distribution deal with Universal, but in order to re-team Godzilla and King Kong, the studio returned the rights to WB.

Farmiga can currently be seen on the fifth and final season of "Bates Motel" and most recently starred in New Line's "The Conjuring 2."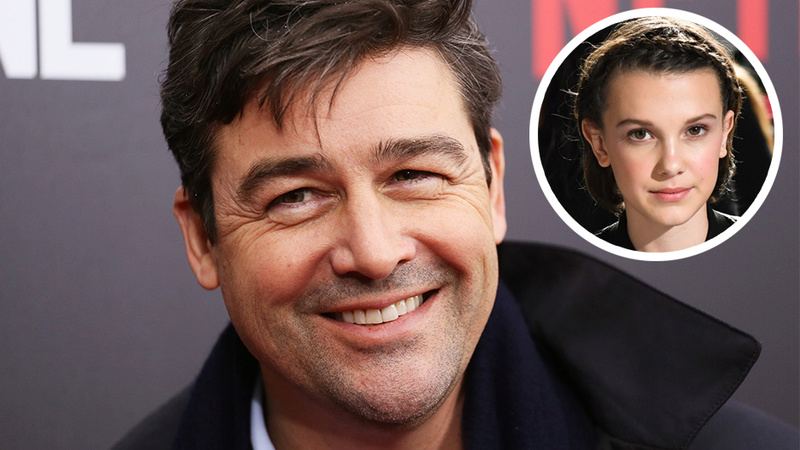 Last edited by WyldeMan on 6/19/2017, 2:06 pm; edited 1 time in total
"Silicon Valley" star Thomas Middleditch looks to have found his next project while on hiatus from the HBO show.
Sources tell Variety Middleditch has joined Millie Bobby Brown and Kyle Chandler in Legendary's "Godzilla: King of the Monsters."

Vera Farmiga and O'Shea Jackson Jr. are also on board. "Krampus" helmer Michael Dougherty is directing the project from a script he penned with Zach Shields.

Alex Garcia will oversee the tentpole for Legendary. "Godzilla: King of Monsters" hits theaters on March 22, 2019, with the monster mash-up "Godzilla vs. Kong" slated to bow the following year on May 22, 2020.

Legendary and Warner Bros. announced in late 2015 that all future "King Kong" and "Godzilla" movies would be developed by Legendary and distributed by Warner Bros., starting with "Kong: Skull Island." Legendary currently holds a distribution deal with Universal, but in order to re-team Godzilla and King Kong, the studio returned the rights to WB.

"Kong: Skull Island" recently opened with $167 million at the domestic box office and $565 million worldwide. Middleditch had a small cameo in the film voicing an off-camera character.

Besides "Silicon Valley" — which was recently picked up for a fifth season and earned Middleditch an Emmy nomination last year — the actor is also voicing one of the leads in DreamWorks Animation's "Captain Underpants." He also recently wrapped production on "Replicas" opposite Keanu Reeves.
Always liked Kyle Chandler, ever since Early Edition.

ForeverBlu




Posts

: 3872


Join date

: 2014-12-10


Age

: 54


Location

: NYC



@ForeverBlu

wrote:Always liked Kyle Chandler, ever since Early Edition.
As a kid, Early Edition made me like him after Pure Country made me hate him.

Production is officially underway on Godzilla 2 in Atlanta, as Warner Bros. and Legendary Pictures have released a press release touting the full cast, synopsis, and production details for the follow-up. While previous reports pegged the movie's title as Godzilla: King of the Monsters, this press release goes out of its way to never actually refer to the film by any title, meaning that the title might be changing (which would be a bummer). The follow-up is described as "the next chapter" in WB and Legendary's "cinematic MonsterVerse" which includes Gareth Edwards' 2014 Godzilla, Jordan Vogt-Roberts' Kong: Skull Island, and the upcoming Godzilla vs. Kong.While Edwards was intending to direct Godzilla 2, he dropped off the project a while back. Instead, Trick r Treat and Krampus filmmaker Michael Dougherty is directing from a screenplay he co-wrote with Zach Shields (Krampus). Ken Watanabe and Sally Hawkins are reprising their roles from Godzilla alongside franchise newcomers Vera Farmiga, Kyle Chandler, and Stranger Things breakout Millie Bobby Brown. The full cast also includes Bradley Whitford, Thomas Middleditch, Charles Dance, O'Shea Jackson Jr., Aisha Hinds, and Zhang Ziyi.

The official synopsis is as follows:

The new story follows the heroic efforts of the crypto-zoological agency Monarch as its members face off against a battery of god-sized monsters, including the mighty Godzilla, who collides with Mothra, Rodan, and his ultimate nemesis, the three-headed King Ghidorah.  When these ancient super-species—thought to be mere myths—rise again, they all vie for supremacy, leaving humanity's very existence hanging in the balance.
Horribly tragic news today, as Fox 5 reports that Hollywood special effects technician Joseph Livolsi, who had just completed work on the Dwayne Johnson-starring monster movie Rampage, was found dead inside his apartment in Atlanta over the weekend. Police say he was shot multiple times by an unknown murderer.


At this time, they have no suspects and no known motive.

Livolsi was in town to work on Michael Dougherty's Godzilla: King of the Monsters, and a red flag was raised when he didn't show up on set this past weekend."We started making phone calls, a lot of people got in the loop and no one could reach him," said friend Eric Cook. "A couple of days went by and it was really at that point we had tried everything and we were running into dead ends, so it was a little alarming at that point."He added, "Real stand up guy… there's nothing bad you can say about Joe, everybody loved him."Joe Livolsi was a special effects technician on over 40 high-profile projects since his career began in 2002, including Minority Report, the Pirates of the Carribean sequels, Spider-Man 3, The Avengers, Furious 7, Ant-Man and Captain America: Civil War.

ForeverBlu




Posts

: 3872


Join date

: 2014-12-10


Age

: 54


Location

: NYC




---
Permissions in this forum:
You
cannot
reply to topics in this forum