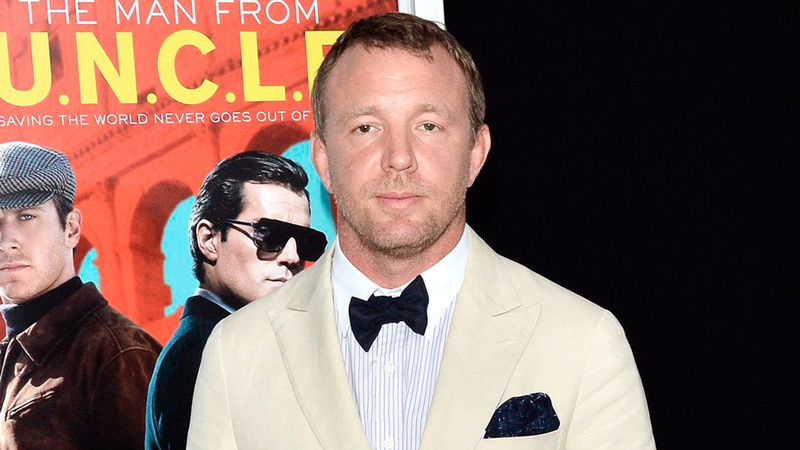 Disney is in talks with Guy Ritchie to direct its live-action "Aladdin" movie.Dan Lin, who produced Ritchie's two "Sherlock Holmes" movies for Warner Bros., is also producing "Aladdin" through his Lin Pictures company. Jonathan Eirich is exec producing.


John August wrote the new "Aladdin" script.

The original animated movie was released in 1992 as a comic take on the folk tale of a young man granted three wishes by a genie trapped in a lamp. The genie was voiced by the late Robin Williams.

"Aladdin" was the top grosser of 1992, and won Academy Awards for best score and best song for "A Whole New World."

Ritchie's credits include "Lock, Stock and Two Smoking Barrels," "Snatch," "The Man from U.N.C.L.E.," and "King Arthur" for Warner Bros.


The original "Aladdin" grossed $217 million domestically and $504 million worldwide.
Last edited by WyldeMan on 7/11/2017, 10:42 pm; edited 1 time in total

ForeverBlu




Posts

: 3858


Join date

: 2014-12-10


Age

: 54


Location

: NYC



I never would have imagined the once great Guy Ritchie would become another of Disney's common whores.
I like Aladdin and I'm ok with this idea than I am of The Lion King. But nobody can replace Robin Williams so there is that.

UltimateMarvel




Posts

: 6058


Join date

: 2014-12-09


Location

: Marvel Universe



'Aladdin': Disney Struggles to Find Stars for Its Live-Action Movie
Disney's magic carpet ride has hit a bit of turbulence.

The studio and Aladdin director Guy Ritchie launched a global casting call in March to find the stars for the musical based on the hit 1992 animated film about a street kid who teams with a genie to woo the princess Jasmine. Disney, Ritchie and casting director Randi Hiller brought on casting directors around the world, from London to Egypt to Abu Dhabi and India, for what sources say is a massive global search: Around 2,000 actors and actresses have read for the lead roles of Jasmine and Aladdin.

But finding a male lead in his 20s who can act and sing has proven difficult — especially since the studio wants someone of Middle-Eastern or Indian descent (the animated film is set in the fictional Middle Eastern city of Agrabah). The original casting call specified that production was slated to begin by July, but the search has dragged on, with Disney and Ritchie having to go back to the drawing board multiple times. Sources say there have been several rounds of tests in London, with the actors coming in for up to two weeks at a time. "The test process was a mess," says one agent with a client who tested.

While the studio had interest in Dev Patel, 27, and Riz Ahmed, 34, the male lead will likely be a newcomer. Sources say the studio is eyeing Power Rangers actress Naomi Scott, 24, or Indian actress Tara Sutaria, 21, to play Jasmine, but can't lock the deal until the male lead has been selected since chemistry is so important to the story. (Will Smith is signed on to play the Genie, and sources say the studio is after known names for the role of the villain Jafar).

Among the newcomers who were still in the running for the riffraff/street rat in the most recent rounds of testing were Dutch actor Achraf Koutet, Canadian actor Mena Massoud and American George Kosturos.

As the search has dragged on (sources say the filmmakers went back to dig through the tapes once again when the most recent round of testing did not go well), the studio has brought on two movie-musical veterans to consult on the project: Marc Platt, who has a strong background in producing musicals and worked on Disney's upcoming Mary Poppins Returns; and Chris Montan, a longtime executive music producer for Disney's animated project such as Pocahontas, Toy Story, Hercules and Frozen.

The lengthy casting process could be a promising sign, however. Disney has had success with previous extensive casting searches for its live-action fare, from Lily James as Cinderella to Daisy Ridley as Rey in Star Wars: The Force Awakens, and insiders say the studio's delay in landing Aladdin is due to its determination to get the casting right for such a beloved and iconic character.

The live-action adaptations of its classic animated films has been a key strategy for the studio that has paid off with hits including Cinderella ($543.5 million worldwide), Maleficent ($758.5 million) and Beauty and the Beast ($1.3 billion). As is the case with Aladdin, Disney is also committed to finding culturally appropriate leads for its other live-action feature, Mulan, focusing its casting search in mainland China.

With shooting for Aladdin now planned to start in August, Disney may have to use all three of its wishes to find its diamond in the rough.
'Aladdin' Casts Will Smith, Mena Massoud, Naomi Scott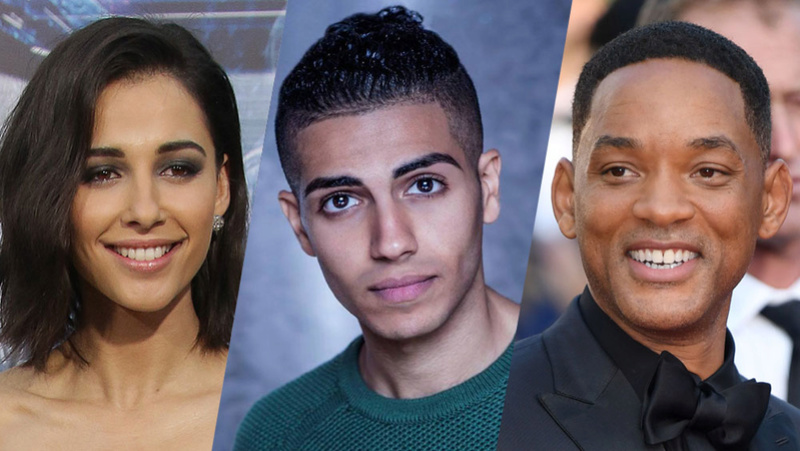 Disney has officially found its Aladdin, Jasmine, and Genie for the live-action "Aladdin" remake. The three cast members were announced at the D23 Expo on Saturday.

The House of Mouse may have been having problems finding its titular Aladdin for the remake of the 1992 animated classic prior to D23 this weekend, but the same cannot be said for Jasmine and Genie. Naomi Scott has officially been cast as Princess Jasmine, while Will Smith will be taking on the Genie. Relative newcomer Mena Massoud has also joined the cast as Aladdin.

Guy Ritchie was previously announced as director.

John August, whose credits include "Big Fish," wrote the new "Aladdin" script. Dan Lin, who produced Ritchie's two "Sherlock Holmes" movies for Warner Bros., is also producing "Aladdin" through his Lin Pictures company. Jonathan Eirich is exec producing.

The original animated movie was a comic take on the Arabic folk tale of a young man granted three wishes by a genie trapped in a lamp.

"Aladdin" was the highest-grossing film of the year in 1992, and won Academy Awards for best score and best song for "A Whole New World."

---
Permissions in this forum:
You
cannot
reply to topics in this forum