Various casting sites are reporting that Zombieland 2 is targeting to begin filming in Atlanta this coming August.

This by no means confirms production will commence, but it's another sign (the first being the logo on display at this month's CinemaCon in Las Vegas) that the studio is moving forward with the long-gestured sequel.

Back in September of 2014 word came via Deadline that Sony Pictures was getting more serious about mounting another installment of Zombieland.

At the time the studio had hired Dave Callaham to write the sequel under the supervision of Ruben Fleischer, who'll return to direct.

Callaham had been scripting The Expendables films, and he had story credit on Legendary's revival of Godzilla.

They are not sure if the participants will be back; pretty much all of them have soared since making the original, from Jesse Eisenberg (who confirmed this in March) to Emma Stone, "True Detective's" Woody Harrelson, and Abigail Breslin (who plays the title zombie in Maggie).

Zombieland came out in 2009 and was a box office superstar making over $100 million worldwide. Although, an awful Amazon series followed and was quickly canceled in 2013.

Eisenberg starred as a shy student trying to reach his family in Ohio, with a gun-toting tough guy (Harrelson) trying to find the last Twinkie, and a pair of sisters (Stone, Breslin) trying to get to an amusement park join forces to travel across a zombie-filled America.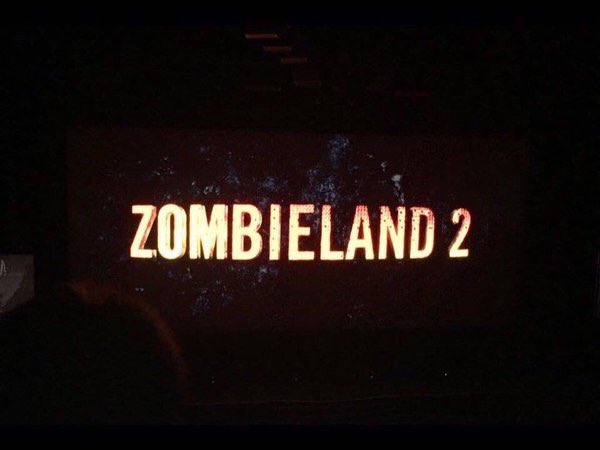 Last edited by WyldeMan on 3/28/2017, 8:12 pm; edited 1 time in total
They need the returning cast

Tyger




Posts

: 1628


Join date

: 2014-12-09


Location

: Utah



@Tyger

wrote:They need the returning cast
Yup.
Otherwise, it will flop like the Amazon series did.

ForeverBlu




Posts

: 3872


Join date

: 2014-12-10


Age

: 54


Location

: NYC



'Zombieland 2' Update; Actively Being Developed and Original Cast is Coming Back
We were pretty sure that the success of Zombieland back in 2009 was going to quickly pave way for a sequel, and indeed one has been talked about for nearly ten years now. But what the hell is going on with that project? Is it dead in the water, at this point? Last we heard, there were rumors filming was set to begin last summer; of course, those rumors turned out to be untrue.Speaking with ComicBook.com, writers Rhett Reese and Paul Wernick (Deadpool) provided a bit of an update this week, revealing that the only real hangup is how successful all the major players have become since Zombieland was released eight years ago. They explained:

It is [in active development]. We're trying to get it going. All of our cast have read the script and love it. Ruben [Fleischer] is signed on. It's just a matter of making our cast deals and making it for a budget number. All the cast have become superstars now so, we made Zombieland with 20 million, so it's trying to fit that financial model into the sequel model so it makes sense for the studio and being able to pay the actors what they now get paid and deserve to paid.

We see [Sony Pictures chairman] Tom Rothman pretty frequently now and we're pestering that dude. He's like, 'Please, enough with the Zombieland talk!' We're pestering him the way we pestered Fox on Deadpool. We're not letting it go. We really want to see Zombieland 2.

So there you have it. Sounds like Ruben Fleischer will be back to direct and, if all goes according to plan, Woody Harrelson, Emma Stone, Jesse Eisenberg, and Abigail Breslin will also return.

---
Permissions in this forum:
You
cannot
reply to topics in this forum