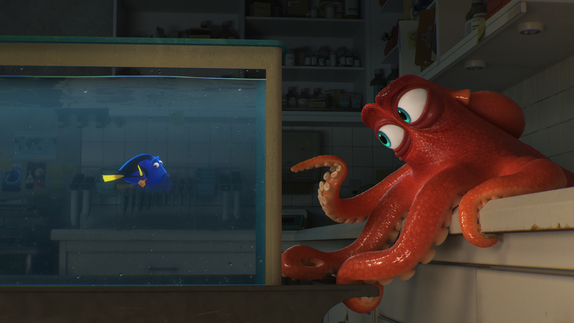 Ellen DeGeneres brought news of

Disney

/

Pixar

's "Finding Nemo" sequel "

Finding Dory

" to Disney's

D23

Expo in Anaheim, Calif., on Friday evening.

Joined by helmer Andrew Stanton, co-director Angus MacLane and

producer

Lindsey Collins, DeGeneres discussed the sequel's plot, which follows Dory on her quest to reunite with her family. Nemo and Marlin set out to accompany the forgetful fish to "the jewel of Monterey, California" in order to find her parents — but needless to say, they run into a few obstacles along the way.

The sequel will pick up shortly after the beloved 2003 original left off, with Dory living in the reef with neighbors Marlin and Nemo. Based on the panel, "Finding Dory" will include plenty of whale-speak and a few familiar faces. One clip shown during the panel teased Dory's seemingly idyllic life on the reef, until one night, Nemo catches her muttering and "sleep-swimming" after being plagued with nightmares brought on by something she's struggling to remember. In a later clip, Dory encounters O'Neill's Hank at the Marine Biology Institute of California, where the sneaky octopus tries to trick our heroine into a questionable deal.

Diane Keaton voices Dory's mom, Jenny, and Eugene Levy plays her dad, Charlie. Also joining the cast is Ed O'Neill as Hank, a curmudgeonly octopus with seven legs, and his "Modern Family" co-star Ty Burrell, who voices Bailey, a beluga whale. "It's Always Sunny in Philadelphia's" Kaitlin Olson lends her voice to Destiny, a whale shark who thinks she's a whale.
Last edited by WyldeMan on 8/9/2016, 1:58 pm; edited 6 times in total

---
Permissions in this forum:
You
cannot
reply to topics in this forum