Page 2 of 2 •

1, 2
More like No, Snipes! No Blade!

Tyger




Posts

: 1452


Join date

: 2014-12-09


Location

: Utah



WyldeMan wrote:

No Snipes No Blade!
Agreed. I don't want to watch a Snipes-less Blade.
Marvel own the rights again, so that's a bonus. I would prefer a Netflix series though.

Rusty




Posts

: 1894


Join date

: 2014-12-09


Location

: Australia



'Logan' Shreds $152.5M In Overseas Debut; $238M Global
Just as he's torn into the domestic weekend, 20th Century Fox/Marvel's Logan has shredded it offshore. The international box office debut for Hugh Jackman's final turn as Wolverine handily clawed its way to $152.5M from 81 markets. This is Fox International's 3rd biggest launch of all time, behind X-Men: Days Of Future Past ($172M) and Avatar ($164M). Globally, the bow is $237.8M.

The James Mangold-directed pic opened to No. 1 in 80 out of 81 markets. In IMAX, and at $20.6M, this is the 2nd-biggest R-rated global debut behind Fox's similarly-R-rated Deadpool. Internationally, it is the biggest R-rated IMAX release ever with $10.6M on 687 screens. What's more, the gritty superhero pic is also the biggest 2D IMAX opening offshore. Both records outstrip Deadpool in the format, particularly thanks $4.4M on 388 in China.

The Middle Kingdom is tops overall, unclenching $46.3M at No. 1 and 33% bigger than X-Men: Days Of Future Past. China was the top market on 2013's The Wolverine, finaling at $41M. Last year's X-Men: Apocalypse grossed $121M in the PROC and 2014's Days Of Future Past ultimately picked up $116.5M there.

Logan debuted last month at the Berlin Film Festival with leading men Jackman and Patrick Stewart in attendance, shining a global media spotlight on the movie, which Mangold said he hoped would reach a wide audience with thought-provoking fare. "It's important that movies that reference pop culture and are franchises and have large national audiences do something more than sell Happy Meals or T-shirts but make audiences ask questions," the director said.

In other notable totals this weekend, Universal's Fifty Shades Darker whipped across the $350M worldwide mark while Lionsgate's La La Land tapped out an international cume that's passed $250M and Warner Bros' The Lego Batman Movie built to a $100M+ offshore score.

I'm going to see it this week. I gotta be apart of this awesomeness.


UltimateMarvel




Posts

: 5108


Join date

: 2014-12-09


Location

: Marvel Universe



Really liked it a lot. Well acted and well written movie with a bit of the ultra violence.

kernel_thai




Posts

: 423


Join date

: 2014-12-11



Just got back from seeing this and it was AMAZING! Better than Deadpool and the best X-Men movie to be honest. It made me tear up, it was beautiful. Hugh gave this one his all and I'm glad they finally unleashed the character the way he should have been. It would have been nice to see some of this character in the other movies. I don't know if anyone can play Logan as good as Hugh did, feel sorry for the next actor who picks up this role. Patrick Stewart was brilliant and I didn't expect to see Charles like this in the movie. X-23 and the actress surprised me, she was badass.

Guys, if you can, go watch this movie. Great movie and a great superhero movie.

UltimateMarvel




Posts

: 5108


Join date

: 2014-12-09


Location

: Marvel Universe



Saw this last night. It was OK. Glad they got to be more bloody and brutal, but the action wasn't all that different from what we've seen before. I feel like they felt like they had to live up to the R rating so there's a distracting amount of F bombs and that's coming from me. It just didn't feel natural, it was like a kid learning the word or something so it's just constant for at least the first half of the movie.

I was literally thinking about how much the girl who plays Laura was conveying without ever speaking RIGHT before her first line.

Tyger




Posts

: 1452


Join date

: 2014-12-09


Location

: Utah



The action was cool but it wasn't about the action Tyger. It's the story and what you felt for the characters, Logan and Xavier. What they've been through and what they still went through in this movie. I just really felt for these characters and it got me all emo watching it.

UltimateMarvel




Posts

: 5108


Join date

: 2014-12-09


Location

: Marvel Universe



I'm actually an easy target to get all emo, but it really didn't do it for me.

Tyger




Posts

: 1452


Join date

: 2014-12-09


Location

: Utah



Mangold Confirms Black-and-White 'Logan' Coming to Theaters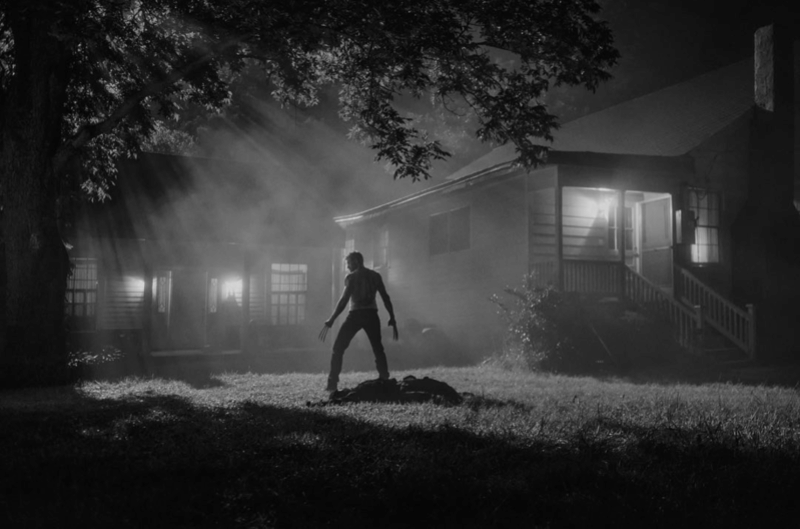 Celebrate, ye nerds and cinephiles, the black-and-white cut of Logan is upon us. Folks have been hyped for a black-and-white version of James Mangold's groundbreaking superhero neo-Western since the early days of the film's promo campaign when the director revealed a series beautifully-shot behind the scenes images.Before any official stills were released by the studio, Mangold teased the film with a series of black-and-white images from the set, capturing Hugh Jackman's withered one-time superhero and Boyd Holbrook's villainous Pierce in portraits so stark and gorgeous they almost had us thinking 20th Century Fox was going to throw out the rule book entirely with this one and release the first black-and-white superhero film. Not quite, but sometimes we can have nice things, and Mangold is fulfilling fan wishes in time for the home video release and what sounds like a one-night-only theatrical run.

Mangold first announced he was working on a black-and-white version of the film back in March, and now that he and his team have put in the effort to regrade and time the entire feature for peak chiaroscuro gorgeousness, the director has taken to his twitter once again to reveal that the black-and-white edition will not only appear on the Blu-ray release, it's getting a very limited theatrical run on May 16th. "Suggestion. Hard core B&W loving LOGAN fans should not make any plans on the evening of May 16th," said the director before clarifying in subsequent tweets that the recolored film will screen in US theaters on that date. Screening locations and ticket details are still to come.

Also starring Patrick Stewart, Stephen Merchant, Dafne Keen, Boyd Holbrook, Elizabeth Rodriguez, Eriq La Salle, Elise Neal, and Quincy Fouse, Logan arrives on Blu-ray and DVD on May 23.
Finally got around to watching this last night. Not too bad. The kid that played Laura/X-23 was fantastic.

Might give it a second watch tonight whilst sober. Might make more of an impression.

Rusty




Posts

: 1894


Join date

: 2014-12-09


Location

: Australia



Page 2 of 2 •

1, 2
---
Permissions in this forum:
You
cannot
reply to topics in this forum