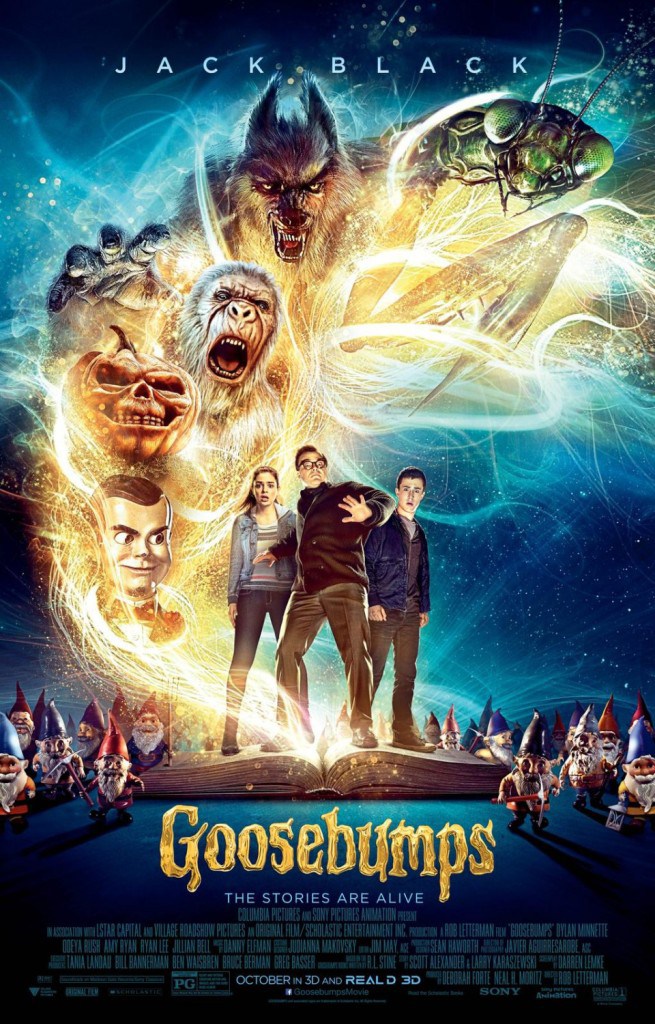 Upset about moving from a big city to a small town, teenager Zach Cooper (Dylan Minnette) finds a silver lining when he meets the beautiful girl, Hannah (Odeya Rush), living right next door. But every silver lining has a cloud, and Zach's comes when he learns that Hannah has a mysterious dad who is revealed to be R. L. Stine (Jack Black), the author of the bestselling Goosebumps series. It turns out that there is a reason why Stine is so strange… he is a prisoner of his own imagination – the monsters that his books made famous are real, and Stine protects his readers by keeping them locked up in their books. When Zach unintentionally unleashes the monsters from their manuscripts and they begin to terrorize the town, it's suddenly up to Stine, Zach, and Hannah to get all of them back in the books where they belong.
Last edited by WyldeMan on 12/8/2015, 2:50 pm; edited 2 times in total

ForeverBlu




Posts

: 3858


Join date

: 2014-12-10


Age

: 54


Location

: NYC



This makes me feel like an asshole for ever reading and loving the shit out of the books when I was a kid.

It's like Jumanji style kinda. I didn't realize Jack Black was playing R.L. Stine. I recognized quite a bit and didn't recognize quite a bit. I'm not really sure how I feel.

Tyger




Posts

: 1861


Join date

: 2014-12-09


Location

: Utah



I never read these books but my friends did. I don't know what to make out of it except that it's definitely a lot like Jumanji a bit which I liked.

UltimateMarvel




Posts

: 6057


Join date

: 2014-12-09


Location

: Marvel Universe




Readers beware, you're in for a scare!

Or maybe a treat, because sources close to The Tracking Board confirm that

Sony Pictures

has already set its sights on a

GOOSEBUMPS

sequel. Talk about a

Shocker on Shock Street!

Though the family horror/comedy isn't set to spook audiences until October 16th, the studio is confident that the

Jack Black

-led pic could ignite a new franchise. The news isn't too surprising given the mass appeal of the property, which is of course based on the worldwide phenomenon that is R.L. Stine's iconic books series.

We here at The Tracking Board are also told that the studio's on the hunt for a scribe to script the new scarefest, though it's still in the very early stages. Naturally, sequel plans are still determined on the reception of the upcoming release, though buzz is building heavily and first impressions are good. The film's stars, Black,

Dylan Minnette

, and

Odeya Rush

are already contracted for further sequels.

Goosebumps

is based on the gargantuan book franchise published via Scholastic from 1992 to 1997. The series, which inspired multiple spin-off releases, has sold over 350 million books worldwide, many of them individual bestsellers. As millennials know, the series was a staple read and was later adapted into a popular Canadian/American television series, which can now be streamed on Netflix.

The film presents a uniquely meta,

Jumanji

-esque approach, setting the characters in a world where R.L. Stine has actually published his

Goosebumps

books. Minnette stars as Zach Cooper, who moves next door to Stine and accidentally unleashes one of the horror author's monstrous creations from a locked manuscript.

As more and more of Stine's classic

Goosebumps

characters are released, it's up to Zach, his friends, and Stine's own daughter to return the creatures to their pages and save their town from utter destruction.

There's no word yet on whether the film's director,

Rob Letterman

, will be back for the sequel.

Neal H. Moritz

and his

Original Film

banner are still producing.

The studio's confidence is a good sign for the forthcoming film, which will hopefully kickstart a slew of new kid's horror comedies.

---
Permissions in this forum:
You
cannot
reply to topics in this forum